IRS Audit Representation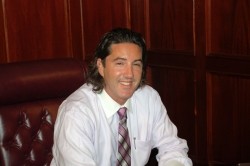 Have you received notice that you or your business is about to be subjected to an IRS audit? Don't panic. With the experienced and skilled tax representation experts at The Levy Group of Tax Professionals on your side, you'll make it through your audit in one piece. While tax audits are never fun and rarely easy, our audit representation pros will guide you through the process and help you secure the best possible result. Contact us now if you're being audited by the IRS! We're here for you.
Our tax representation services include:
Determining why your return was selected for an IRS audit
Collecting documents necessary to the investigation
Filing all paperwork by the appropriate deadlines
Representing you during the IRS tax audit proceedings
Negotiating a tax settlement such as an offer in compromise, if necessary
Advising you on avoiding IRS audits in the future
We care about our clients' financial security and peace of mind, which is why our licensed and insured staff will work closely with you until your IRS auditing proceedings are closed—and beyond. In our 22 years in the audit representation business, we've learned what strategies are most likely to work in your favor, while still getting you in compliance with government rules. Additionally, our affiliations with the American Society of Tax Problem Solvers, the National Association of Tax Resolution Companies, and the National Association of Tax Professionals allow us to stay up to date and aware of all IRS tax audit regulations that might affect you. You can trust The Levy Group of Tax Professionals to know all there is to know about IRS audits, and to put that knowledge to work for you.
Affordable IRS Audit Representation
If you're being audited by the IRS—especially if you fear the auditor will find that you owe additional taxes—you're probably worried about the cost of IRS auditing representation. With The Levy Group of Tax Professionals, you have one less thing to worry about. Our prices for help with tax audits are among the lowest in and around Miami, and we'll give you a free cost estimate during your initial consultation to prove it.
For more information about why choosing The Levy Group of Tax Professionals for assistance with IRS tax audits, call or e-mail our office now. We'll answer all of your questions, schedule an initial consultation at the soonest possible time that works for you, and get started right away on your case. For experience, knowledge, skill, and a true commitment to solving tax problems, don't look any further than The Levy Group of Tax Professionals! 
IRS Audit Lawyer
IRS Audit Help